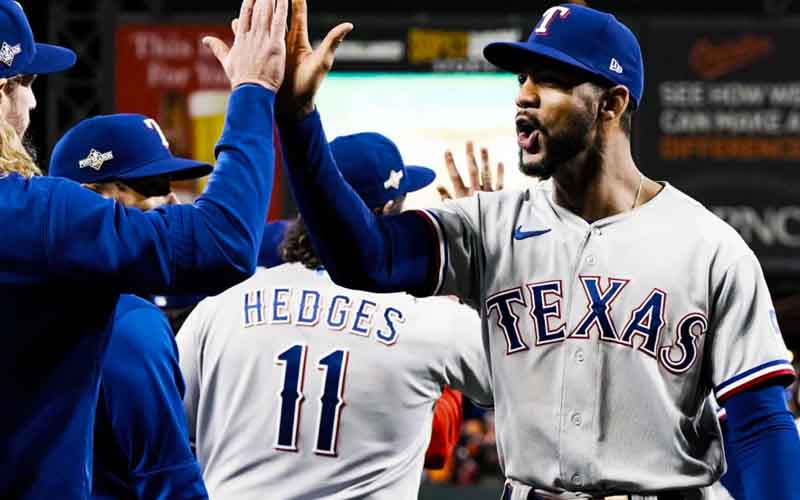 The American League Championship Series will enter its second game this afternoon when the Texas Rangers and Houston Astros take to the diamond. The Rangers took a 1-0 lead over the Astros following an impressive 2-0 shutout effort from starter Jordan Momery who lasted six innings.
This afternoon, runlines at most online MLB sportsbooks are favoring the Astros to win by a -1.5 margin.
Texas Rangers @ Houston Astros Game 2 Runline
Rangers Starting Pitcher: Nathan Eovaldi (R)
Astros Starting Pitcher: Framber Valdez (L)
Run Spread: Rangers +1.5, Astros -1.5
Moneyline Odds To Win: Rangers -102, Astros -118
Over/Under: 8.0
Opening Pitch: Today at 4:37 p.m. on Fox
Despite Houston being favored for Game 2, series prices for the NLCS suggest that Texas will be the first to reach four wins.
Houston Astros vs. Texas Rangers 2023 ALCS Series Prices
Houston Astros +165
Texas Rangers -200
Tonight at 8:07 PM, Game 1 of the National League Championship Series will begin. The Philadelphia Phillies are projected to take the first game from the Arizona Diamondbacks at MLB Playoff betting sites with a 1.5-run advantage in current lines.
Arizona Diamondbacks @ Philadelphia Game 1 Phillies Runline
Diamondbacks Starting Pitcher: Zac Gallen (R)
Phillies Starting Pitcher: Zack Wheeler (R)
Run Spread: Diamondbacks +1.5, Phillies -1.5
Moneyline Odds To Win: Diamondbacks +139, Phillies -165
Over/Under: 7.0
Opening Pitch: Tonight at 8:07 p.m. on MAX or the MLB Network
Current NLCS series prices favor the Phillies to win as well, with a commanding moneyline of -195. These prices align with the current MLB Playoff picture odds and brackets that we create each week.
Philadelphia Phillies vs. Arizona Diamondbacks 2023 NLCS Series Prices
Philadelphia Phillies -195
Arizona Diamondbacks +160
The Texas Rangers hold a slim lead over the Philadelphia Phillies in the 2023 World Series futures, suggesting the two will meet for the MLB World Championship that is scheduled to begin on October 27th.
MLB 2023 World Series Odds To Win
Texas Rangers +188
Philadelphia Phillies +195
Houston Astros +310
Arizona Diamondbacks +475
There are even MLB props on the boards at Bovada that offer moneyline odds on exact World Series matchups and outcomes. The top odds-getter as of this writing is the Texas Rangers beating the Philadelphia Phillies, with the opposite outcome garnering second place overall.
In-game MLB Playoff prop bets are being offered for each contest that are taking action on the daily strikeout leader, Daily Fantasy Sports specials on batters and pitchers, the series or teams that score the most runs, and more.
If you can't place a bet until after the opening pitch, there are also live betting lines on each MLB Playoff game tonight. In-game MLB betting allows for wagering on the run spread, winner odds, or the over/under total until the late innings.
Sources: