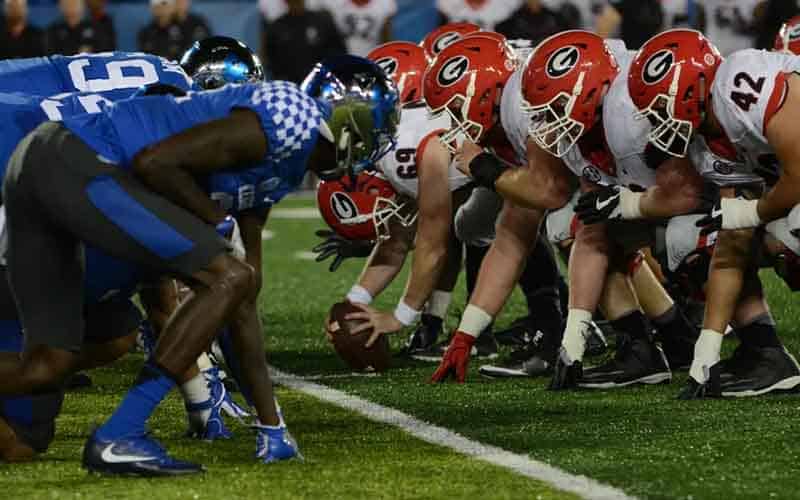 This Saturday's slate of college football games features two in-conference matchups where the winner will gain an edge in the hunt for the CFP. Both the SEC and Big-12 feature pairings of undefeated teams that are ranked in the AP Top 25. Here's our take on how each game will go down.
First up is the 12th-ranked Oklahoma Sooners, who are traveling to Dallas, TX, to face the third-ranked Texas Longhorns in what will be a packed Cotton Bowl Stadium.
Oklahoma Sooners @ Texas Longhorns
Oklahoma Point Spread: +5.0
Oklahoma Moneyline Odds To Win: +175
Texas Point Spread: -5.0
Texas Moneyline Odds To Win: -205
Over/Under: 60.5
The big game, known as the Red River Rivalry, kicks off at noon on Saturday and can be seen on ABC. College football betting sites are favoring the Longhorns to win by 5 points.
The Sooners are hoping to avenge last year's loss. Last year's game resulted in a 49-0 drubbing of Oklahoma by the Longhorns. This year, everything is on the line as both teams are in contention for the Big 12 championship and a trip to the College Football Playoffs.
Big 12 Standings
#12 Oklahoma Sooners 2-0, 5-0
#3 Texas Longhorns 2-0, 5-0
West Virginia 2-0, 4-1
Kansas State 1-0, 3-1
BYU 1-1, 4-1
Kansas 1-1, 4-1
TCU 1-1, 3-2
Baylor 1-1, 2-3
Iowa State 1-1, 2-3
Texas Tech 1-1, 2-3
Oklahoma State 0-1, 2-2
UCF 0-2, 3-2
Cincinnati 0-2, 2-3
Houston 0-2, 2-3
Texas is led by quarterback Quinn Ewers, a leading 2023 Heisman Trophy candidate. Ewers is getting the job done in the air and on the ground, throwing for ten touchdowns and running for an additional five scores.
Don't sleep on Oklahoma, though. Their senior QB, Dillon Gabriel, is lighting up the scoreboard this year as well. He's got 15 touchdowns passing and five on the ground.
We expect the Longhorns to win but are betting on the Sooners to cover the spread.
Kentucky Wildcats @ Georgia Bulldogs
Kentucky Point Spread: +14.5
Kentucky Moneyline Odds To Win: +500
Georgia Point Spread: -14.5
Georgia Moneyline Odds To Win: -650
Over/Under: 47.5
The Kentucky Wildcats are coming off of a stunning defeat of the Florida Gators, besting them by a score of 33-14. On Saturday at 7:00 p.m., the Wildcats will test their might against the top-ranked team in the nation, the Georgia Bulldogs. GA is also the top contender in the odds for betting on the CFP National Champion.
The game will take place in front of a raucous crowd in Dooley Field at Sanford Stadium and can be seen on ESPN. The winner will take sole command of the SEC East Division, setting them up for a spot in the Conference Championship Game if they can win out the remainder of their schedule.
SEC East Standings
#1 Georgia 2-0, 5-0
#20 Kentucky 2-0, 5-0
Missouri 1-0, 5-0
Florida 1-1, 3-2
Tennessee 1-1, 4-1
South Carolina 1-2, 2-3
Vanderbilt 0-2, 2-4
Kentucky was a paltry 6-5 in 2022 but still managed to hang pretty tight with the Bulldogs, only losing by 10. We expect GA to win, but we're laying our wagers on Kentucky covering the spread.
Sources