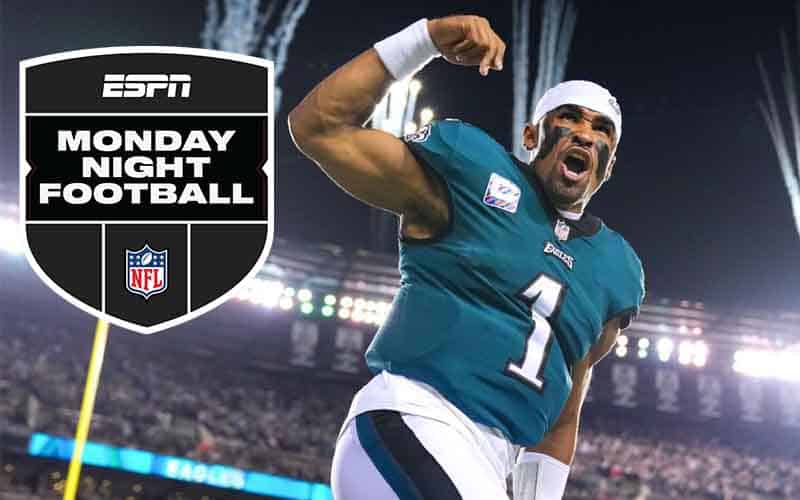 Two Monday Night Football games will air tonight to cap off an explosive Week 3. First up at 7:15 PM is a matchup of two 2-0 teams when the Eagles travel to Florida to face the Buccaneers.
Philadelphia Eagles @ Tampa Bay Buccaneers
Point Spread: Philadelphia -4.5, Tampa Bay +4.5
Moneyline: Philadelphia -230, Tampa Bay +190
Over/Under: 44.5
Philadelphia Eagles quarterback Jalen Hurts is 19-1 in his last 20 starts. Tonight, the Eagles are favored by -4.5 over a Buccaneers team that has exceeded expectations thus far with a 2-0 record.
Two wins are two wins in the National Football League, but it must be noted that Tampa's victories have come against the 0-3 Minnesota Vikings and the 0-3 Chicago Bears.
It hasn't been an easy road for Philly, either. They were taken to the wire in Week 1 by the New England Patriots and narrowly escaped the Vikings in Week 2.
We are betting on the Eagles to cover, but we do expect a good showing from the Bucs tonight in Raymond James Stadium.
Los Angeles Rams @ Cincinnati Bengals
Point Spread: Los Angeles +2.0, Cincinnati -2.0
Moneyline: Los Angeles +115, Cincinnati -135
Over/Under: 43.5
The second Monday Night Football game begins at 8:15 PM and features a rematch of Super Bowl LVI. The LA Rams enter the contest with a record of 1-1 and are in need of a win to keep pace with the NFC West-leading San Francisco 49ers.
The Bengals are currently 0-2, a mark that they've matched in four out of the last five seasons. Still, Cincinnati's roster is loaded with talent, and it is only a matter of time before they shake off the rust and win a game or two.
Online NFL sportsbooks agree and suggest that the Bengals will win by 2 points at home tonight.
The Rams are without star wide receiver Cooper Kupp until at least Week 8, but rookie Puka Nacua has stepped in and provided an offensive boost for Stafford and the LA offense.
Pacua has caught more passes (25) in his first two games than any other receiver in the history of the NFL, and his 15 receptions in Week 2 against the 49ers is the most by a rookie in a single game, ever. He is listed as questionable for tonight, however.
We're betting on the Bengals to cover the 2 points and get back on the winning track.
Sources: