This Saturday, August 5th, 2023, we will watch popular YouTuber turned boxer Jake (the Problem Child) Paul and former UFC star Nate (Diablo) Diaz battle it in the American Airlines Center in Dallas, Texas. The fight will air on pay-per-view networks and has already garnished tons of interest with the two big names sitting on top of the main card.
This fight will be Jake Paul's first since his split-decision loss to Tommy Fury in February 2023. Jake Paul has a current boxing record of 6-1 with four knockouts but has faced severe backlash because most of his fights were against aging UFC stars and other YouTube personalities.
Nate Diaz has never boxed professionally before but was known for his extreme cardio in the UFC octagon. Diaz also had a 22-13 UFC record before departing from the UFC after his contract expired in late 2022. Below you can see the official weigh-in and how the two teams fought after Jake Paul told the crowd, "He's a little b*tch."
The Jake Paul vs. Nate Diaz EXPLODES as teams start to scuffle. 😳 #PaulDiaz pic.twitter.com/efa35vIcrh
— MMA Junkie (@MMAJunkie) August 3, 2023
Is It Legal To Bet On Boxing Online In The USA?
Yes, betting on boxing online is legal in the United States if the site is licensed and regulated by a trusted gaming jurisdiction. No federal laws have been passed to outlaw online gambling, but some states have created state laws concerning the matter. 
While many US residents have multiple options for betting on sports, including domestic sportsbooks and online sportsbooks, it is important to know your state laws concerning online gambling before placing a wager. 
Jake Paul vs. Nate Diaz Odds (8/5/23)
Once again, the odds have shifted leading up to the blockbuster boxing matchup between Jake Paul and Nate Diaz this upcoming Saturday. Unsurprisingly, the odds are leaning more towards Jake Paul winning the fight, indicating that more bets have been placed on the younger Paul brother. 
When we first started tracking the odds, Jake Paul was at -250 at Bovada's online sportsbook; now, as the fight draws near, Paul is sitting at -450, and Diaz is currently at +350.
Odds To win The Fight (via Bovada)
Jake Paul -450
Nate Diaz +350
The fight card below indicates the only significant difference is the fighter's age. Diaz has much more professional fighting experience but has yet to enter the boxing ring.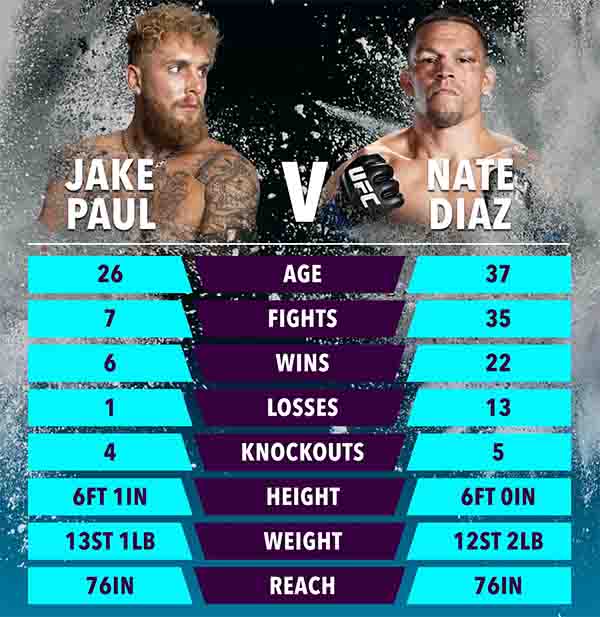 How To Watch The Paul vs. Diaz Fight?
This Saturday, August 5th, the Jake Paul vs. Nate Diaz fight will air exclusively on ESPN+, DAZN, or PPV.com. The prelims are set to air at 6:15 ET, with the main card streaming at about 8 pm ET.