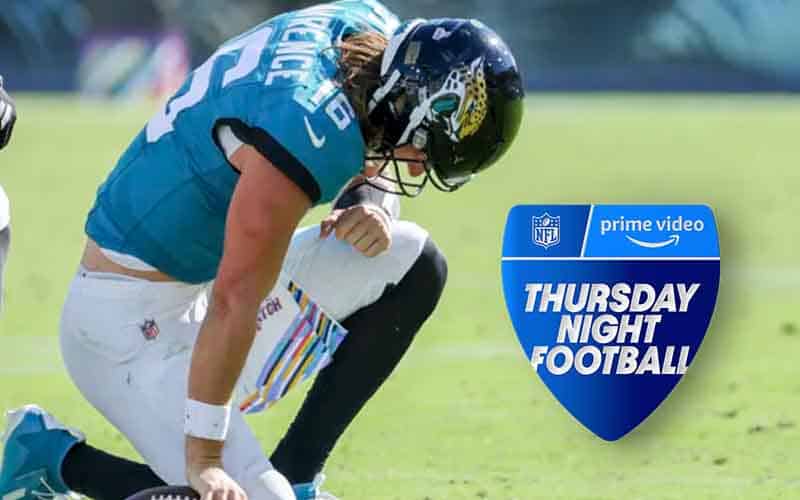 Jacksonville Jaguars starting quarterback Trevor Lawrence suffered a knee injury during their Week 6 win over the Indianapolis Colts. The victory propelled the Jaguars to the top of the AFC South rankings heading into their Thursday Night Football matchup against the New Orleans Saints.
Current AFC South Standings
Jacksonville Jaguars 4-2
Indianapolis Colts 3-3
Houston Texans 3-3
Tennessee Titans 2-4
With sixty hours to go until kickoff, Lawrence is listed as day-to-day. Legal NFL betting sites are favoring the Saints to win by a spread of -2.5, but we expect those lines to shift if Lawrence is declared active for Thursday night.
Jacksonville Jaguars @ New Orleans Saints Betting Line
Jaguars Point Spread: +2.5
Jaguars Moneyline Odds To Win: +125
Saints Point Spread: -2.5
Saints Moneyline Odds To Win: -145
Over/Under: 39.0
Projected Final Score: Saints 20, Jaguars 18
The odds for betting on the NFL Playoffs also suggest that the Jaguars will finish as the top team in the AFC South in 2023-24. The current AFC South futures odds place the Jags in a commanding lead, 190 points ahead of the Houston Texans.
2023-24 AFC South Futures
Jacksonville Jaguars -130
Houston Texans +260
Tennessee Titans +600
Indianapolis Colts +750
The Texans did score a win against the Jaguars in Week 3. Houston and Jacksonville will play again in Week 11 on November 26th.
The Saints have been inconsistent this season. They are currently ranked third in the NFC South behind the Tampa Bay Buccaneers and the Atlanta Falcons. New Orleans is coming off of a tough Week 6 loss to the Texans and is projected to rebound quickly against the ailing Jags on TNF.
Current NFC South Standings
Tampa Bay Buccaneers 3-2
Atlanta Falcons 3-3
New Orleans Saints 3-3
Carolina Panthers 0-6
The Saints are also favored to win the NFC South by a slim 20-point margin over the Falcons.
2023-24 NFC South Futures
New Orleans Saints +160
Atlanta Falcons +180
Tampa Bay Buccaneers +185
Carolina Panthers +6600
The Saints' three victories have come against the Tennessee Titans, New England Patriots, and Carolina Panthers. They have not secured a quality win this year, and we do not expect them to beat the Jaguars as long as Lawrence is under center.
Despite the short week, all signs point to Trevor suiting up against the Saints at home.
Both the Jags and Saints are favored to earn a top-four playoff seed in their respective conference, but what about their odds of winning Super Bowl LVIII?
2024 Super Bowl Betting Odds
San Francisco 49ers +400
Kansas City Chiefs +500
Miami Dolphins +800
Philadelphia Eagles +800
Buffalo Bills +900
Dallas Cowboys +1000
Detroit Lions +1600
Baltimore Ravens +1800
Cincinnati Bengals +2000
Jacksonville Jaguars +2500
Cleveland Browns +3000
Los Angeles Chargers +3300
Seattle Seahawks +5000
New Orleans Saints +6000
The Saints and Jaguars are ranked 16th and 10th, respectively, in the above Super Bowl 58 futures. Jacksonville will deliver 25+to+1 payouts if you bet on them to win Super Bowl LVIII right now, and they win. Betting on New Orleans to win the Super Bowl will result in 60-to-1 gains if they hoist the Lombardi Trophy next February.
Sources: