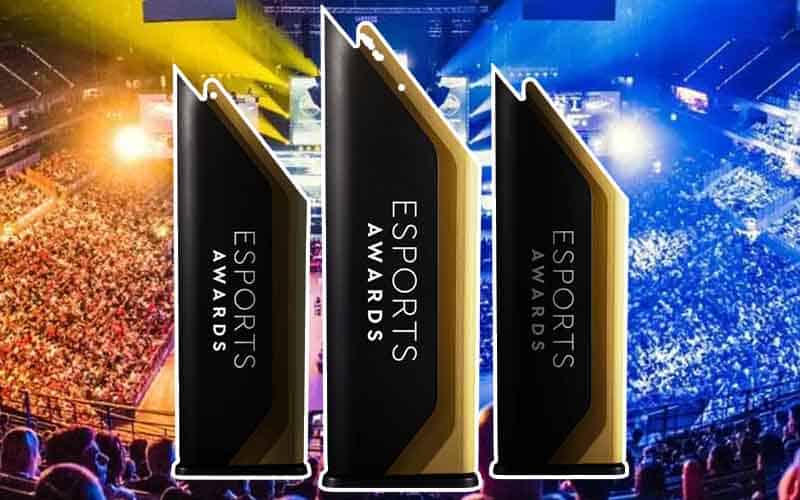 The Esports Awards is a ceremony that has honored greatness in the spectrum of competitive online gaming and streaming since 2016. 35 Esports Awards are given out in total, with honors superlatives from Game of the Year to Esports Cosplay of the Year.
Anywhere competition occurs, there will be winners and losers. These are two crucial ingredients for gambling. Due to this, eSports betting has exploded in popularity alongside the ascension of the sport itself.
Another popular non-traditional category of betting that's expanded in recent years is entertainment gambling. Anything that occurs on television or movie screens is fair game for betting odds, including the latest tabloid gossip.
Entertainment prop bets are created for most awards shows like the Oscars, Emmys, and even the MTV VMAs. The Esports Awards will air on Twitch on November 30th, inspiring online sportsbooks to produce the following three betting lines for winners.
eSports Game of the Year
VALORANT +120
League of Legends +350
CS:GO +800
Rocket League +800
Call of Duty Modern Warfare II +800
Dota 2 +800
Mobile Legends: Bang Bang +900
PUBG MOBILE +1000
Fortnite +1000
What's intriguing about eSports is that only the most tried-and-true games feature wide competition. It can take years after release for even a massive-selling game to garner enough routine traffic to make it into an eSports tournament.
That's why so many of the titles listed in the odds for game of the year are familiar to even non-gamers – they've been around a while. Leading the odds is VALORANT, a futuristic first-person shooter (FPS).
VALORANT's odds are offering a little over even money, with a 230-point lead over second-place League of Legends.
eSports Personality of the Year
Naman "Mortal" Mathur +325
Charles "MoistCr1TiKaL" Christopher White Jr +350
Victor "Coringa" Augusto +450
Seth "Scump" Abner +500
Ludwig "Ludwig" Ahgren +600
Jeremy "Disguised Toast" Wang +700
Alexandre "Gaules" Borba Chiqueta +800
Bruno "Nobru" Goes +800
Hector "H3cz" Rodriguez +800
Lines for entertainment betting are also offered for eSports personality of the year and streamer of the year. Naman "Mortal" Mathur and Charles "MoistCr1TiKaL" Christopher White Jr are neck-and-neck in the odds to win eSports POTY, but IBai Llanos holds a commanding lead in props for best Streamer of 2022-23.
Streamer of the Year
Ibai Llanos +280
Kai Cenat +600
Samy "Riversgg" Rivera +600
Tarik Celik +650
Seth "Scump" Abner +650
Alexandre "Gaules" Borba Chiqueta +700
Aliffe "Paulinho o Loko" Henrique Carvalho +700
Felix "xQc" Lengyel +700
Blaire "QTCinderella" +800
Chikara "FPS_Shaka" Kawakami +800
Winners are selected by votes submitted at the Esports Awards website. One vote can be submitted every day until ballot boxes close up on November 14, 2023.
The same cannot be said for betting on the Esports awards, as entertainment odds have a knack for disappearing without notice. If you are interested in placing a wager on one of the above winners, visit Bovada as soon as possible.
Sources