Over the past weekend, patrons noticed something was happening at the MGM Casino Resort and the Caesar's Casino Resort in Las Vegas. 
The first signs of an anomaly were when guests noticed their hotel room cards didn't work, and others saw that some slot machines in the Casino had gone dark at the MGM casino. MGM also noticed that their online booking system needed to be fixed and now offers a penalty-free cancelation until Sept. 17th due to the malfunction. An MGM company spokesman, Brian Ahern, did not answer questions concerning what information could have been accessed in the data breach. The Las Vegas Review-Journal has reported that MGM has been losing 4.2 – 8.4 million daily due to the cyberattacks.
Caesar's Casino also confirmed that their online booking systems were not working correctly but could not say their customer's personal information was breached. While there were no indications that the Casino was affected a lot, it is still unknown. 
Are Online Casinos Safer Than Domestic Casinos?
Trusted legal online casinos are generally safer for players due to their encryption tactics that minimize data breaches. While no online casino site is 100% secure from cyberattacks, the likeliness of those attacks affecting your information is greatly minimized due to the encryption. 
In addition to storing your information under disguise, other security protocols are in place to protect the player and the Casino. While SSL encryption is used for player information and banking, other third-party organizations observe the site to ensure their systems are up-to-date and in place. 
To assure players that the online casino site is safe, operators obtain licensing from trusted gaming jurisdictions that test the games and odds for fairness and confirm that their data is secure. 
Are Online Casinos Legal In The United States?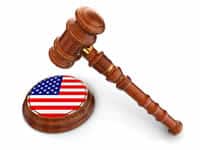 Yes, no federal US gambling laws make online gambling illegal. For the most part, the US Federal government has let the individual states decide what their residents can access over the internet. Only one state has outright banned online casino gambling: Washington. 
Some online casino sites have opted out of certain states for various reasons, most likely due to pressure from state officials. To learn what online casinos are available in your state, see our state-by-state legal US gambling guide, detailing what gambling activity is permitted in each of the 50 US states.