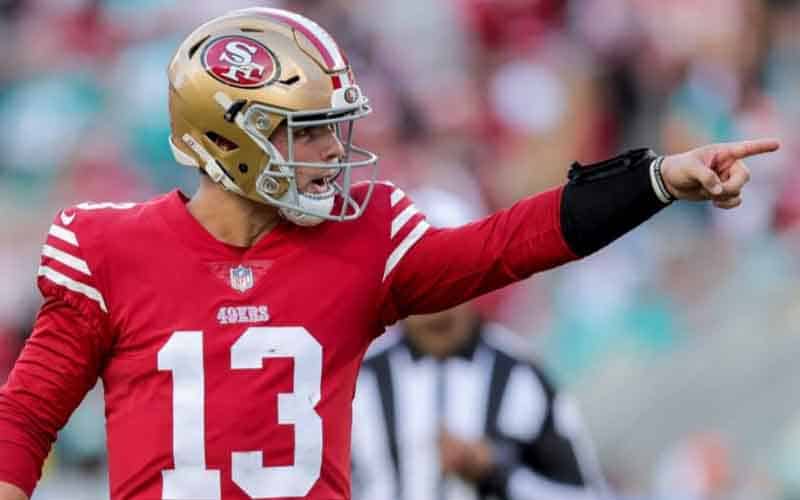 Cruising the NFL betting lines for Week 6 has proven to be a difficult endeavor. Most game lines feature matchups of unpredictable opponents with results that are difficult to project.
Still, two pairings stood out to our staff as being worthy of action this weekend. Here's where we're placing our NFL bets in Week 6.
San Francisco 49ers at Cleveland Browns
San Francisco Point Spread: -6.0
San Francisco Moneyline: -265
Cleveland Point Spread: +6.0
Cleveland Moneyline: +225
Over/Under: 37.5
Last Monday night, the San Francisco 49ers walloped the Dallas Cowboys by a final score of 42-10. The win solidified the 49ers as the top team in the NFC, alongside the Philadelphia Eagles, who are also 5-0.
The 49ers and Eagles will play each other on December 3rd in a contest that will likely award the winner the top seed in the National Football Conference.
Second-year quarterback Brock Purdy has never lost a game in the regular season as a starter. We expect that trend to continue against the 2-2 Cleveland Browns this Sunday.
The Browns are still uncertain as to whether QB Deshaun Watson will be able to start. If he cannot suit up, XFL veteran P.J. Walker will get the nod against the 49ers.
No matter if Watson or Walker starts for the Browns, we are betting on the San Francisco 49ers to cover the six points.
Dallas Cowboys at Los Angeles Chargers
Dallas Point Spread: -2.0
Dallas Moneyline: -130
Los Angeles Point Spread: +2.0
Los Angeles Moneyline: +110
Over/Under 50.5
The Dallas Cowboys are now 3-2 and firmly entrenched as the second-place team in the NFC East. They got their butts handed to them last Sunday night in San Francisco, and they now look to rebound against the LA Chargers on Monday Night Football.
The Chargers have shown flashes of offensive brilliance, with the nucleus of Justin Herbert, Austin Ekeler, and Keenan Allen routinely placing points on the scoreboard.
Ekeler is expected to return to the lineup this week, but both he and Herbert are still listed as questionable. Chargers defensive end Joey Bosa is also questionable against the Cowboys.
Dallas linebacker Leighton Vander Esch has been placed on the injured reserve list and is expected to miss four to six weeks due to a neck injury he suffered against San Francisco.
Critics are now piling on the Cowboys, but we expect them to bounce back quickly and get the win in LA. We are betting on the Dallas Cowboys to cover and erase last week's loss from their memories.
Sources: