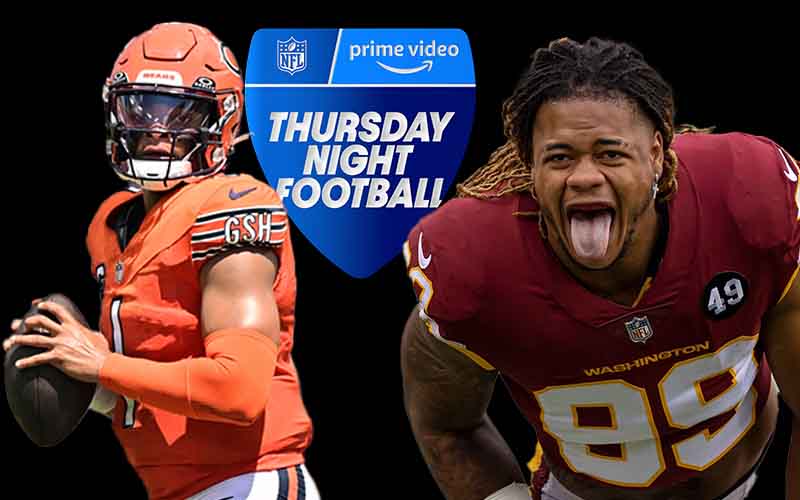 Entering Week 5 of the 2023-24 NFL season, the Chicago Bears have compiled an 0-4 record and find themselves in a must-win situation. They've lost by 18 to the Green Bay Packers, by 10 to the Tampa Bay Buccaneers, by 31 to the Kansas City Chiefs, and by 3 last Sunday to the lowly Denver Broncos.
The Washington Commanders currently stand at .500 with a 2-2 record. They lost a heartbreaker in overtime to their NFC East rival, the Philadelphia Eagles, in Week 4 and now look to get back on the winning track against the Bears tonight on Thursday Night Football.
Kickoff is set for 8:15 PM tonight on Amazon Prime, and NFL point spreads around the web are favoring the Commanders to win by six points.
Chicago Bears @ Washington Commanders Betting Line
Bears Point Spread: +6.0
Bears Moneyline: +225
Commanders Point Spread: -6.0
Commanders Moneyline: -275
Over/Under: 44.5
The Bears are tied with the Carolina Panthers for the worst record in the league and appear poised to secure the number one pick in next year's NFL Draft.
Chicago possesses the Panthers' first-round pick in 2024, placing them in a unique scenario where they could potentially hold both the first and second overall pick. Whether this plays out as projected or not, the Bears still have a big decision to make on quarterback Justin Fields.
There's no question that Fields is one of the greatest runners ever to play quarterback in the NFL, but he's been unable to convert those efforts into routine victories.
It is hard to imagine a scenario where the Bears retain the top two picks and do not select a quarterback, save for a miraculous turnaround this season.
Justin Fields 2023 Stats Through Four Weeks
123 attempts
79 completions
861 yards
64.2 completion percentage
7 touchdowns
5 interceptions
134 yards rushing
1 rushing touchdown
It could also be argued that Chicago has not surrounded Fields with much to work with. Are critics being too harsh on Justin, considering that he's nearly a one-man show on offense?
Here is an example of how Fields is expected to perform tonight based on current NFL prop bets.
Justin Fields Projected States vs. The Commanders
27 attempts
17 completions
193 yards
1 touchdown
1 interceptions
46 yards rushing
The Commanders will need to follow through on current projections and win the game to retain any hope of remaining in the hunt for the NFC East title.
The Eagles are 4-0 and appear poised for another Super Bowl run, while the Dallas Cowboys are hot on their heels at 3-1. The 1-3 New York Giants seem hopeless at this point and are one of the few teams that could compete with the Bears for the first pick in next year's draft.
We're actually betting on the Bears to cover tonight, as the Commanders have had a tough time scoring and separating from their opponents this season.
Sources: