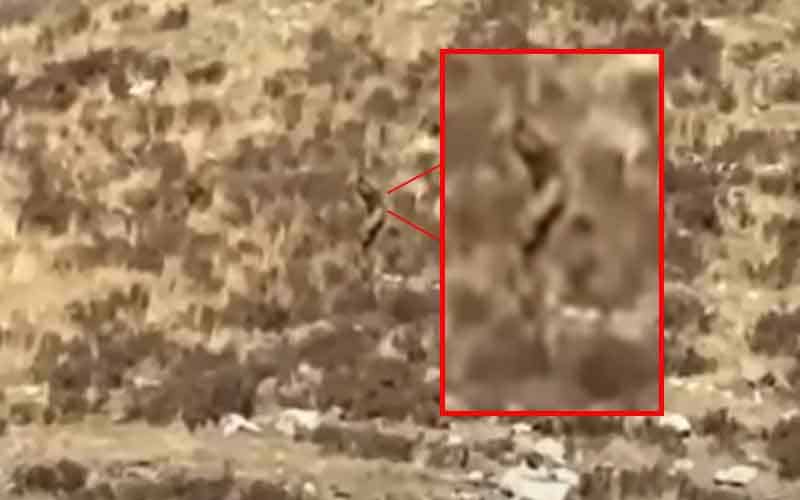 Cryptozoology experts around the globe are now closely examining a video shot by tourists vacationing in Colorado that appears to capture a Sasquatch in the wild.
Not since the Patterson Gimlin 8mm film shot in 1967 has a Bigfoot been seen so clearly on film. Although filmed at a considerable distance, the image does reveal a hair-covered biped walking, then squatting, disappearing into the hillside brush.
Have a look at the video and decide for yourself.
Entertainment prop bets are now on the boards taking action on what the result of the CO Bigfoot video will be. For now, only three outcomes are posted, but BetOnline Sportsbook will accept requests and make the entertainment odds available to other members if they approve.
Colorado Bigfoot Odds
Colorado Video Confirmed as a Hoax -5000
Existence Confirmed by National Geographic +5000
Captured +10000
@BetOnline
The cool part about the above Bigfoot prop bet is that not all of the results are mutually exclusive. If the Sasquatch shown in the video turns out to be a guy dressed up in a suit, then the other two outcomes will terminate.
However, the final two results can both occur, and each will payout handsomely to those brave enough to lay down some action right now.
A Bigfoot bet on its existence to be confirmed by National Geographic is paying out at 50-to-1. That's not to suggest that the magazine and television network will be the ultimate authority on the matter or is responsible for offering a yea or nay or the authenticity of the video.
What is being implied is that once National Geographic piles on with a confirmation, then the public at large can rest assured that their findings are legitimate.
If the Sasquatch is captured, entertainment bets made on its apprehension will deliver profits of 100-to-1. Gamblers must keep in mind the timeline involved with the completion of this Bigfoot betting line.
It could take months or years to determine whether the video is legit. There is also the very real potential that the validity of the video will never be confirmed, making any Bigfoot wager placed on the above prop a loser.
Also, when betting on current events, don't plan on becoming a millionaire overnight. Although the odds are long, the maximum bets that can be placed on any of the three options are set low so the sportsbooks don't lose their shirt if it turns out that Bigfoot is real.
Sources: