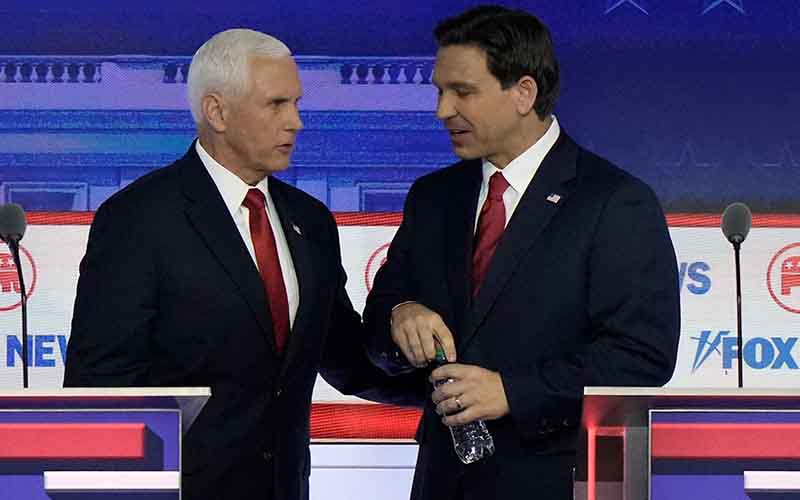 Tonight at 9 p.m. on the Fox Business Network, seven Republican Presidential hopefuls for 2024 will square off on the debate stage for the second time in this election cycle.
Notably absent will be former President Donald Trump, who has opted out of both GOP debates thus far. Despite his lack of presence, Trump will be a prominent topic, and he should be. He's the leading Republican candidate for 2024 according to recent polls and the odds at legal political betting sites.
If Trump evades his legal challenges prior to the 2024 Presidential election, the results of these debates will be moot. Still, gamblers can earn some coin by laying some action on the debate odds, so why not cash in while watching the proceedings?
Entertainment prop bets have been created for the winner of tonight's debate. While no official winner will be declared at the event, a poll will be conducted following the debate by ABC News, with the results expected sometime next week.
California Republican Debate Winner
Vivek Ramaswamy +160
Ron DeSantis +180
Nikki Haley +200
Mike Pence +1200
Tim Scott +1500
Chris Christie +2000
Vivek Ramaswamy is currently leading the odds to win the second debate, with Florida Governor Ron DeSantis closely trailing him. The odds get much tighter when projecting the first candidate to utter the word "Trump."
First To Say "Trump"
Chris Christie +250
Vivek Ramaswamy +250
Nikki Haley +325
Mike Pence +450
Ron DeSantis +450
Tim Scott +650
Christie and Ramaswamy are still buying into theories that the 2020 Presidential election was stolen and that Trump was the actual winner. As such, they're both leading the odds to mention those two words on stage tonight before anyone else gets a chance.
First To Say "Stolen Election"
Chris Christie +150
Vivek Ramaswamy +200
Mike Pence +600
Nikki Haley +600
Ron DeSantis +600
Tim Scott +600
Ramaswamy and Christie are also leading the odds to be the first to take a sip of water. This prop bet only takes action after the debate officially begins and will not count if they take a sip prior to that time.
First To Take A Sip Of Water
Chris Christie +200
Vivek Ramaswamy +200
Ron DeSantis +400
Mike Pence +500
Nikki Haley +500
Tim Scott +500
The final debate prop offered for tonight is taking wagers on the candidate who eats up the most speaking time on stage. The odds between first and fifth place are only separated by 100 total points, meaning that anyone could win.
Which Candidate Will Get The Most Time To Speak?
Vivek Ramaswamy +250
Mike Pence +300
Ron DeSantis +300
Chris Christie +350
Nikki Haley +350
Tim Scott +1500
Regardless of which candidate you bet on to speak the longest, a minimum of 2.5-to-1 payouts will be earned if you're correct. There are similar odds posted at other sites listed among our online sportsbook reviews if you are interested in line shopping. Good luck.
Sources: